Which Fall Protection Control is Best?
In order of best to worst, these solutions are:
1) Hazard Elimination,
2) Passive Fall Protection,
3) Fall Restraint,
4) Fall Arrest,
5) Administrative Controls.
What is

Beam Runner
Fall Safety Protection?
The Beam Runner Clamp is part of a positioning device system. The Beam Runner Clamp is the newest technology in life saving fall safety protection. Beam Runner is the most innovative Life Saving Fall Restraint that you can buy. Fabricated in the United States of America. The Beam Runner Company is owned and operated by the founder and inventor. Each Life-Saving Fall Safety Protection device is fabricated and hand crafted to the highest standards. Extensive engineering and precision craftsmanship has developed the Beam Runner fall safety clamping device.
Beam Runner Clamps are the critical anchoring component that keeps workers tethered. This device enables attachment where snaphook carabiners cannot. Beam Runner is designed to easily anchor climbers to smooth surfaces such as steel beams.
Implementation of Beam Runner for high elevation work makes the job site safer. Users report that there is a noticeable increase to productivity after their jobsite began using Beam Runner. Productivity increases because climber mobility improves. The reason for more mobility is that the Beam Runner is installed with one hand while the climber is working. This leaves the other hand available for balancing or carrying tools and supplies. Similarly, the Beam Runner is removed with one hand and is easily repositioned at the next location. This enables much more mobility for climbers to move about. There is continuous fall safety protection.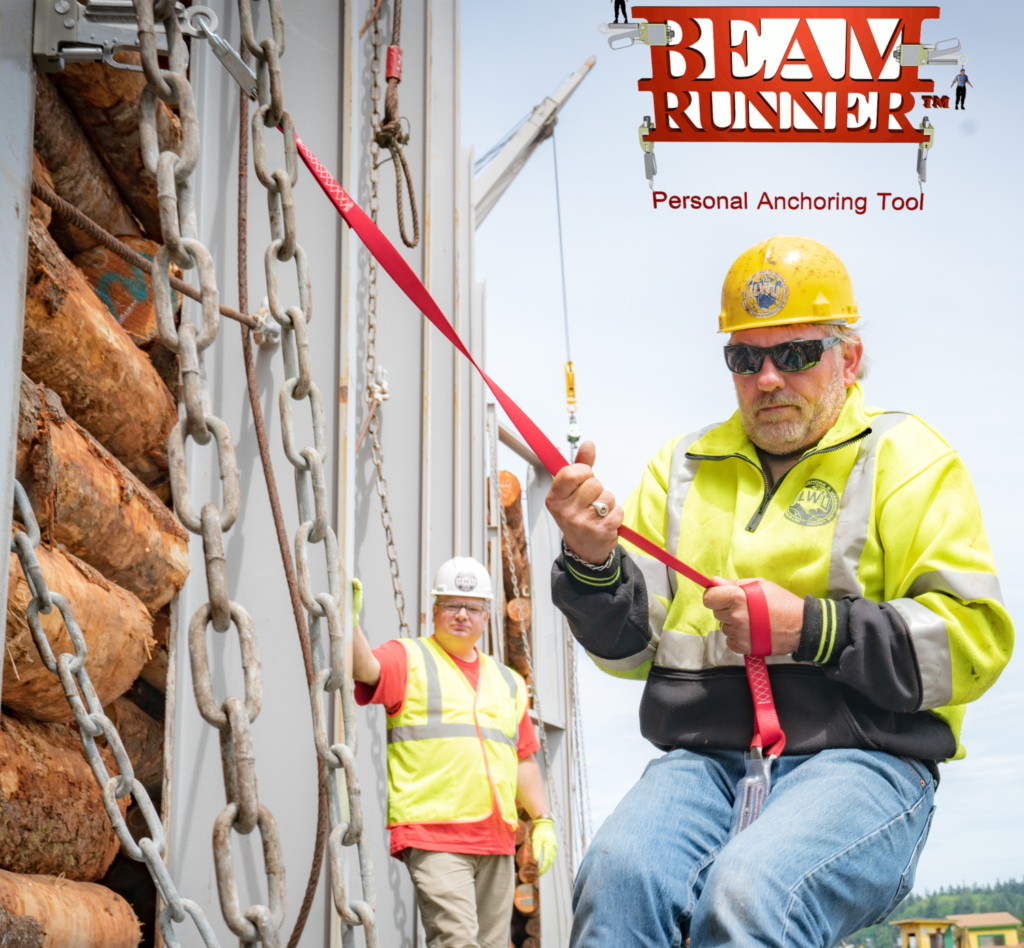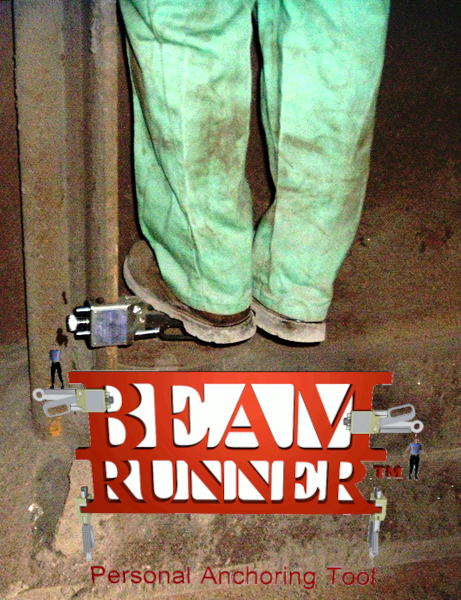 Model #2200

1/4 to 1″ Flange
Device weighs 3 1/2 lbs
Available in right & left handed versions

Right Handed –
Model 2200R $795.00 USD
Left Handed –
Model 2200L $795.00 USD


Model #2300

1/4 to 1 1/2″ Flange
Device weighs 3 5/8 lbs
Available in right & left handed versions

Right Handed –
Model 2300R $895.00 USD
Left Handed –
Model 2300L $895.00 USD


Carrying Holster

Holster – Model 2000 R
Right hand $79.95 USD

Holster – Model 2000 L
Left Hand $79.95 USD

BEAM RUNNER INSTRUCTIONAL TRAINING VIDEOS
BEAM RUNNER INSTRUCTIONAL Manual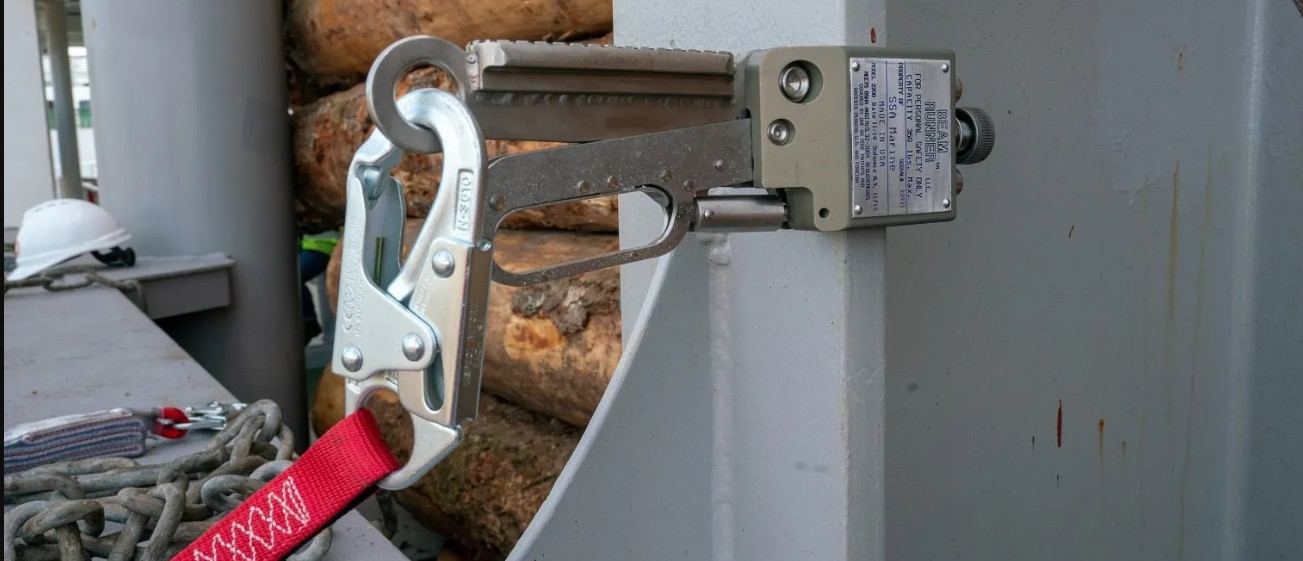 Abdullah Dadin International LLC.
ACE Cogeneration Company
Administration & Finance
AEP Flint Creekpower plant
AES Electric Supply Inc.
Aker Construction Inc.
Alcoa Warrick Power Plant
All- Lift Systems Inc.
All PrecisionAlliant Energy
All-N-One Contracting
AmarilloBolt
AMEC Kamtech, Inc.
Ameren Energy Resources
Ameren-Union Electric
American Avionic
American Electric Power Cook Coal Terminal
AMTRAK Accounts Payablle
Archer Daniels Midland Company
Architect of the Capitol US Capiitol Power Plant
Arctic Fire and Safety inc.
Argus Contracting LPASA Safety Supply
Avertec Inc.
Aycock Rigging
B&B Precision
Basin Marine, Inc.
Bechtel
Bell Helicopter
Biodex
Birchwood Power Facility
BKW East
Bovis Lend Lease
Bureau of Reclamation Hoover Dam
Burlington Generating Station
Capitol Power Plant
Care Safety LLC.
Cedar Bay Generating Company
Central Generadora Electrica San Joes, Ltda.
Certex USA
Certex USA Inc.
Cherene Contracting Corp.
Chesapeake Shipbuilding Corp.
Cianbro Corporation
Cianbro Fabrication & Coating, Construction
Cimmins Rocky Mountain
Citation Oil & Gas Corp.
Cogen Technologies Linden Venture, L.P.
ConAgra Foods – Lamb Weston
Continuous Improvement, Inc.
Cummins Power Generation
Dan River Steam Station
Day & Zimmermann NPS
DEC Training/Distributing
DELAWARE INDUSTRIAL SUPPLY
Denning Safety Gear inc.
Direct Safety Solutions
Cassidy Construction Company
Dupont Experimental Station
DynegyEast Tennessee Natural Gas
Eastway Aviation
Edgecombe Genco LLC.
Empire Safety & Supply Co.
Entergy Corporation
EQ Engineers, LLC.
ETR Services
EZ Erecting
F&M Mafco, Inc.
Fastenal
Frham Safety Products Nashville
Gabriel Rockwell Sesr
GDF SUEZ Energy North America
Genaeral Mills
Georga Pacific
Gordonsville Power Station
Graham Construction & Engineering Inc
Gravisys
Gray Construction co.
Great Plains mfg
Great River Energy Coal Creek Station
Griffith Energy LLC.
Guardian Fall Protection
Hagemeyer North America
Hanes Supply, Inc.
HD Supply Inc.
HD Supply White Cap
Hines Energy- Tiger Bay Complex
Holland Energy LLC.
Homeca Recycling & Demolition, Corp.
Howard Hoffmann Missouri One Card
Independence Construction Materials
Industrial Supply Co.
Interstate
Interstates Inc.

IPA Operations, Inc.

IREX Corporation
JEA / Northside Generator

Jones Stevedoring Company
KA Industrial, LLC.
KBA Engineering
Kia Motors Manufacturing Georgia Inc.
Kiewit Inc.
Kokosing Construction
L & L Construction Inc.
Lawrence Glass & Mirror Co.
NV Energy Company
Mackinaw Power
Max Access Inc.
Mayer Electric Supply Company
Mc Inc.carl's
McDonald Safety Equipment inc.
Meca Engineering
Metro North Railroad
Mettam Safety Supply
Mirant, Morgantown Generating Station
Mirant's Mid-Atlantic Potomac Generating Station
MJ Electric
Montenay Islip Inc.
Muscatine Power and Water
Nation Safety Supply of VA. Inc.
National Oilfield Solutions, LLC
NV Energy Reid Gardner Station
Orders Construction Company
Orion Power Midwest, L.P.
P&I Supply
Peach Bottom Atomic Power Station
Penn Tool Sales & Services Inc.
Pennsylvania Tool Sales & Service
Pepsi-Cola & National Brand Beverages, Ltd
Pioneer Pipe Inc.
Porter-Walker LLC.
Portland Bulk Terminals LLC
Potor Walker LLC.PPL Services
PPl
PSEG
PSEG Nuclear LLC.
Public Service of New Hampshire
Puget Sound Energy
Quad City Safety Inc.
R W Rental's & Supply
R&R Pumping Unit Repair and Service
Reliant Energy
Relible Machine
RTC, Inc
Rumford Power Inc.
Rush Island Power Plant
Safety Plus Products, Inc.
SafetyDirect
SafetyDirect Ltd.
Safeworks LLC.Seaway Paintng LLC.
Service Industrial Supply
Silverite Construction Company Inc.
Southeast Safety & Supply
Southwest Power Tool
Specproenvenv
SRP – Accounts Payable
SSA marine
SSA Pacific
St Johns River Power Park
Summit Contracting
Supply Force
The Vernon Corporation
TIC Co.
TIC The Industrial Company
Tool-Smith Company, inc.
Triangle Enterprises Inc.
TRI-State G&T Assoc
Tusk Mfg Inc.
TVA
Unimin Voca TX S U0052
Unitel Energy Systems, Inc
Valmy Power Plant
Veolia Environmental
Voith Hydro Inc.
W. N. Clark Station
Washington Group International
WCC – WC Headquarters
Weatherford Inc.
Weatherford International, Inc.
Wesco Distribution Inc.
Western Nevada Supply Co.
Wheelabrator Baltimore L.P.
White Cap Nashville # 853WJE
Wolverine Power Supply
Wolverine Power Supply Cooperative
Worley Parsons Canada
WPS Industries Group
Xcel Energy High Bridge Plant
Zachry Construction Corp. SA
Zachry Industrial Inc.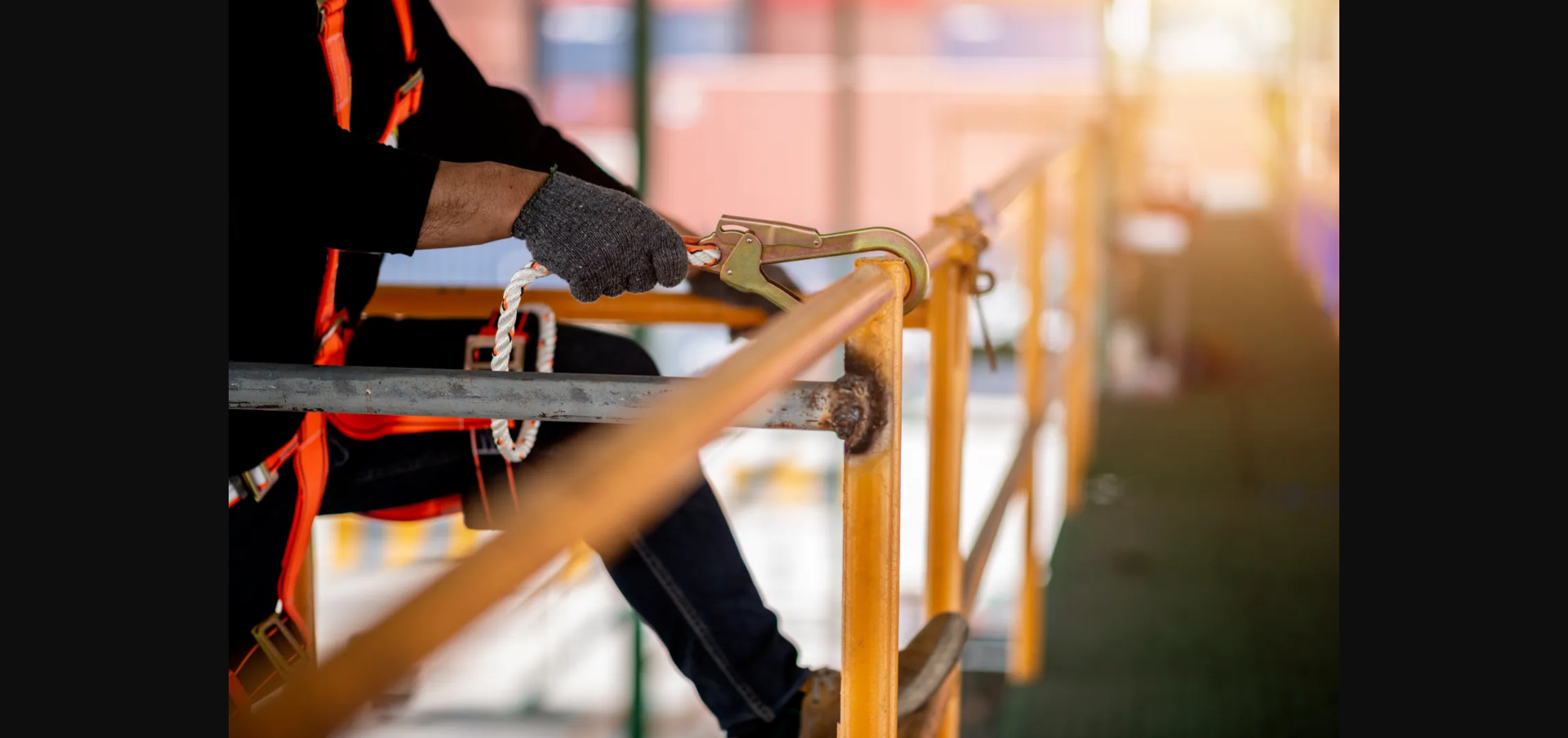 BEAM RUNNER™ LLC warrants that the BEAM RUNNER™ Anchor Tool is free from defects in materials and workmanship, and conforms to manufacturing specifications in effect at the time the Anchor Tool was manufactured. This limited warranty applies to BEAM RUNNER™ LLC branded Anchor Tools sold by BEAM RUNNER™ LLC or authorized BEAM RUNNER™ Anchor Tools dealers. During the limited warranty period, at its sole discretion, BEAM RUNNER™ LLC will repair or replace a defective Anchor Tool in accordance with manufacturing specifications.Unauthorized service, replacement of parts, repairs, or the addition of non-BEAMRUNNER™ parts or accessories to the Anchor Tool voids this warranty.All other express or implied warranties for the Anchor Tool, including the implied warranties of merchantability and fitness for a particular purpose, as well as any implied warranties that are not stated in this limited warranty, are hereby disclaimed.BEAM RUNNER™ LLC shall not be liable for damages, for injuries, or death, or for damage to property, resulting from misuse, modifications, or improper or inadequate training in the use of the Anchor Tool.This limited warranty extends for a period of three years from the date of purchase.